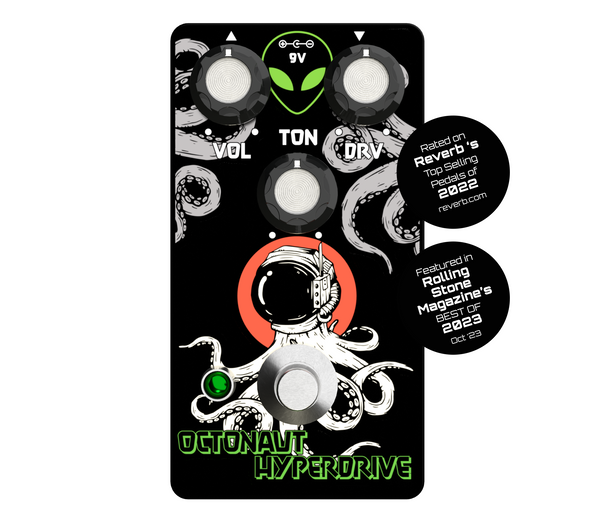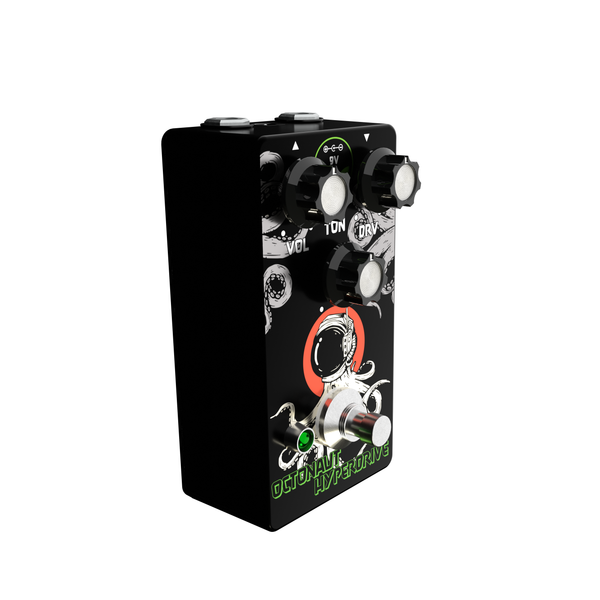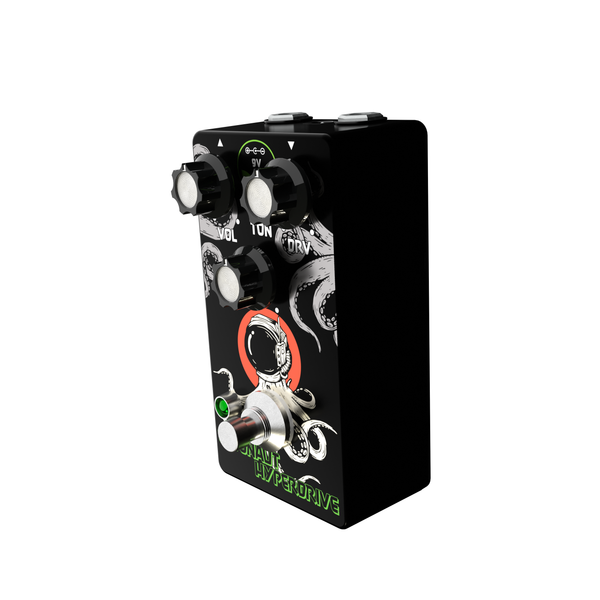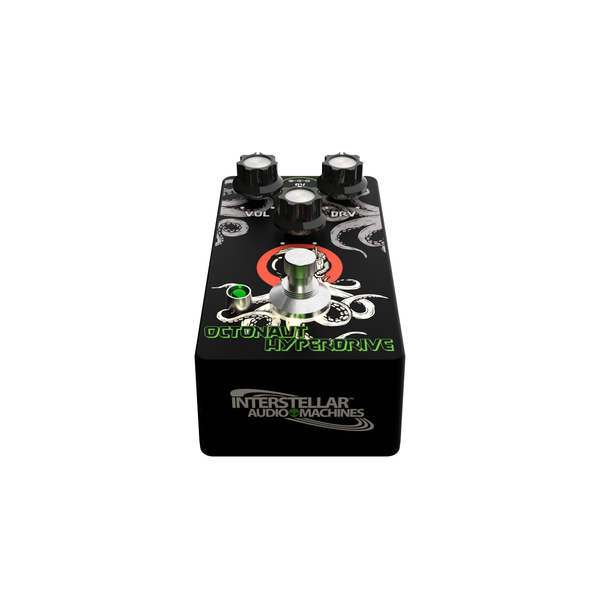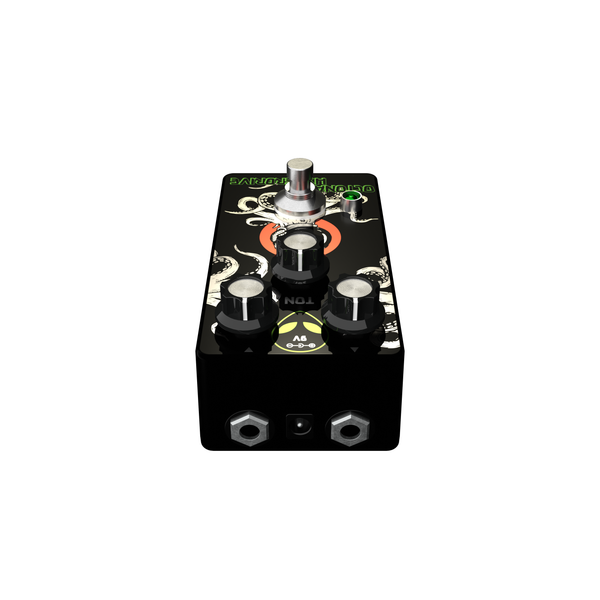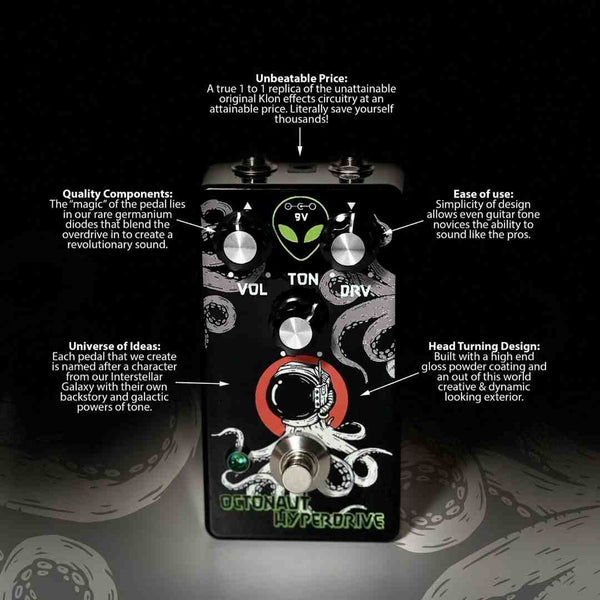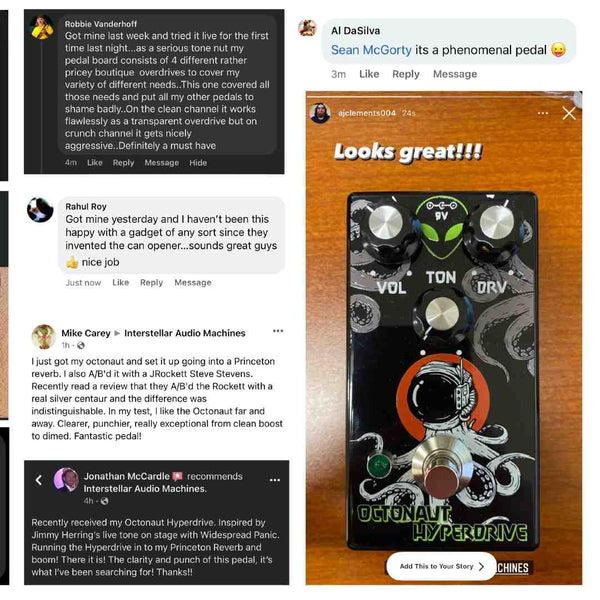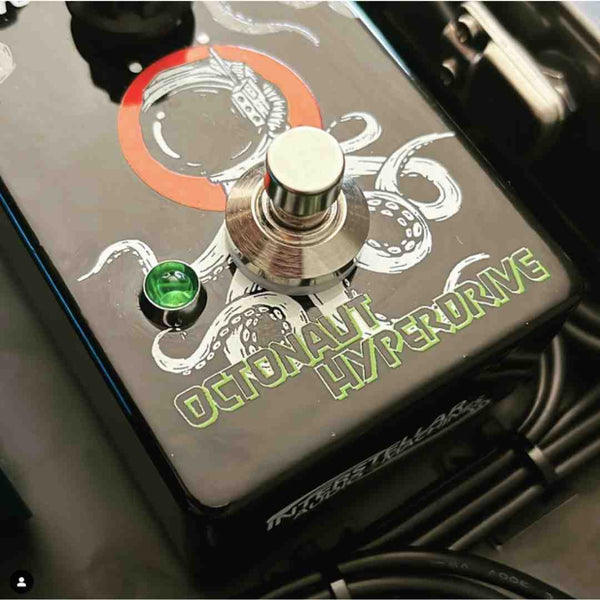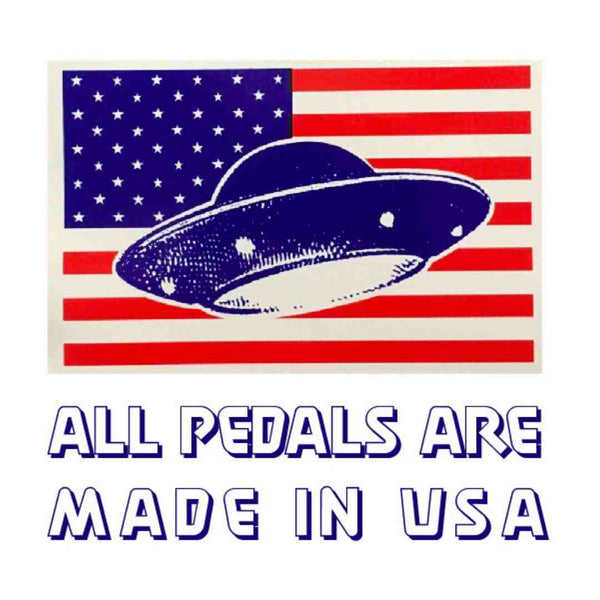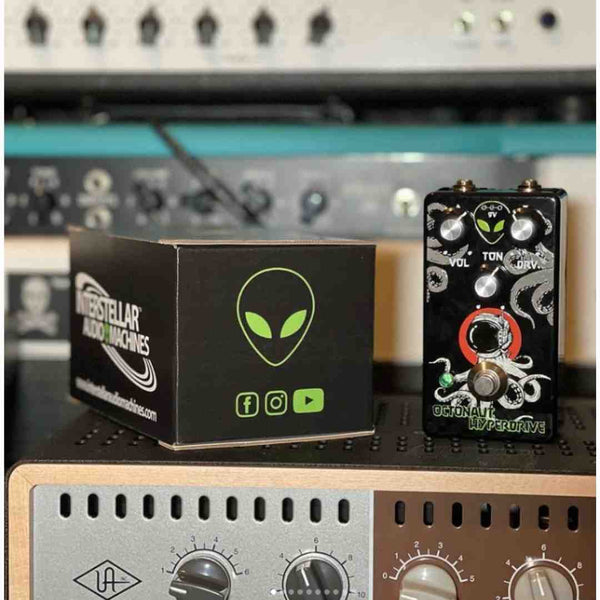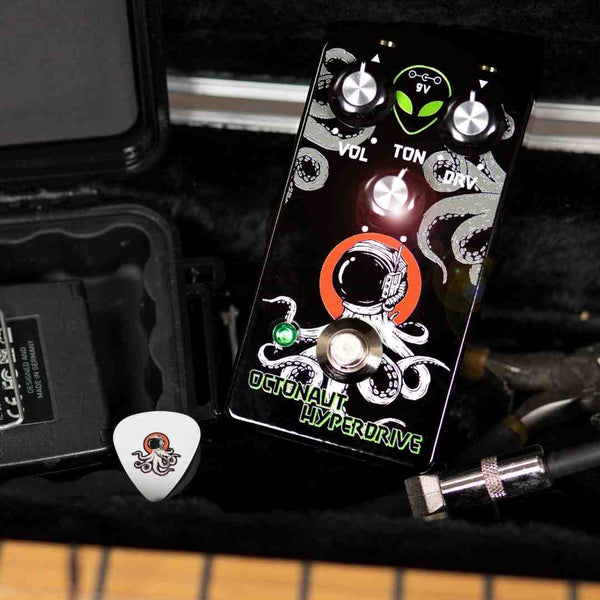 GUITAR TONE THAT'S OUT OF THIS WORLD.
The Octonaut Hyperdrive transparent overdrive delivers expressive dynamic response through detailed engineering and craftmanship. Each Octonaut Hyperdrive features germanium diodes rigorously tested for optimum tone, an IC3 that converts voltages giving the player more headroom, a gain pot that expertly blends the clipping & clean stages, a selectable true/buffered bypass operation, and a refined circuit design for ultra-consistent performance from pedal to pedal. Pair this little guy with any guitar rig and the resultant tone will lead to massive planetary destruction!
Here's what you get with this out-of-this-world pedal:
* Internal switch for selecting True Bypass vs. Buffered
* Dual-ganged gain pot makes dialing in your tone a breeze
* Rare Germanium diodes provide ultimate tone perfection
* Refined all-analog circuit design
* Provides pure, ultra-consistent performance
* Modern IC3 circuitry offering maximum headroom


WHAT'S INSIDE
Here's what you get inside:

Octonaut Hyperdrive Pedal

Octonaut Hyperdrive

Manual

Octonaut Hyperdrive

ID Card

Octonaut Hyperdrive

Sticker

Octonaut Hyperdrive

Medium Guitar Pick
Interstellar 1" Button

  




THE BIRTH OF THE OCTONAUT HYPERDRIVE

Embark on a Cosmic Odyssey with the Octonaut Hyperdrive

Embodied in the vastness of a neighboring galaxy, a tale unfolds of The Octonaut—a nameless hero, a mid-level mechanical engineer within the Klip League of Octonautical Navigation. His journey begins when an unforeseen illness strikes his crew, prompting a race against time to find a cure.

Yet, the cure's ingredients lay elusive, tucked away 13 light years distant, beyond the grasp of traditional space travel. Undeterred by the cosmic expanse, The Octonaut's ingenuity took center stage. Enter the "Hyperdrive"—a revolutionary device engineered to bend the fabric of space itself.

In a twist of fate within the laboratory, as the Hyperdrive tech began to materialize, a fortuitous accident occurred. Amidst the quest for faster-than-light travel, an unexpected revelation emerged—a celestial symphony hidden within the device. Fevered testing of various audio signals through the system unraveled an intriguing transformation: the once discordant tones metamorphosed into an ear-pleasing melody on the other end.

Today, we proudly unveil the Octonaut Hyperdrive—a cosmic creation with the power to transcend the boundaries of space. Although missing a few key "speed of light travel" components for your safety, this smaller format is now within reach for the average life form. Join us in the fight for the tone, where innovation meets harmony, and the echoes of The Octonaut's cosmic odyssey resonate in every note.



One of my favorite pedals I keep this one on my board where so many others have gone before it and this will be staying
WOW
I had read a few reviews, looked on YouTube and decided to pull the trigger on the Octonaut Hyperdrive. The smile on my face was instantaneous after plugging it in.
It's kinda hard to put into words the best way to describe it but the tone and overall sound this pedal creates is impressive… I would recommend it to anyone looking for a great addition to their pedal board, I actually turn most of the others off and sometimes will use a little delay but overall…
THIS THING ROCKS 🎸🎸🎸
Fantastic!
I plugged it in and out of the box it sounded great and used it on a gig the next night and it felt fantastic all night under my hands playing a tele. Great pedal. It's now a mainstay on one of my boards. The Octonaut Hyperdrive Rocks!!
One of my favorites
Perfect to boost both clean and distorted amps.
This unit sounds amazing! The tone definition is unbelievable and it will definitely give that push over the edge. I highly recommend it to guitarist who want a great distortion sound with flavor.