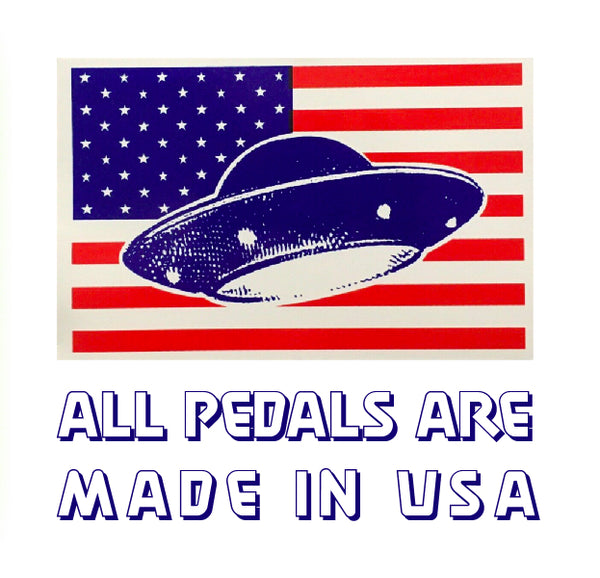 TAKING FUZZ TONE INTO THE NEXT DIMENSION.

The fight for "The Tone" continues with the Fuzzsquatch Fuzzdrive from Interstellar Audio Machines.  The Fuzzsquatch Fuzzdrive is a recreation of the Electro-Harmonix Big Muff Pi, first released in 1969. Originally marketed as a "harmonic distortion sustain", it has been lumped together with fuzz effects, although it's a very different animal than classic fuzz effects like a Fuzz Face or a Tone Bender.
The Fuzzsquatch Fuzzdrive, our re-creation of the late '70s circuit. The circuitry of the Fuzzsquatch Fuzzdrive – differs from the traditional transistor-based Big Muff circuit in that it uses operational amplifiers (op-amps) to achieve its signature sustaining distortion sound. With widely-sweeping tone controls and a character all its own, the Fuzzsquatch Fuzzdrive will surely be a formidable addition to your sonic arsenal.

Here's what you get with this out of this world pedal:
Top-Mounted Jacks

Sustain Knob with

 

Volume, and Tone Knobs

Tone Bypass Switch

9V battery and 9V power supply (sold separately)
THE STORY OF THE FUZZSQUATCH FUZZDRIVE
The Fuzzsquatch's story begins on a coniferous forest planet called Faxon orbiting a red supergiant star in the Yetican system. Located on the borders of known Klip League space, the Fuzzsquatches maintained a friendly but loose affiliation with the Klip League spending most of their time living their lives in general peace and harmony.  Over the years, through various meditations and scientific evolutions of their species' axons and neural capabilities, they developed an almost mystical connection to what would become known as "The Tone" throughout the rest of the galaxy.  
No one really knows for sure, but Klip League scientists presume the Fuzzsquatuches figured out a way to focus their mystical mental energy through their bodies creating these audible "tones" that emanate from their hands in the form of a glowing yellow energy.  Imbued with their DNA, this tone energy carries a unique sound quality that can only be created by a Fuzzsquatch.  
While working in the labs at the Fuzznautical Universal Zenith Zeta, The Fuzzsuatches did however figure out a way to develop organic based tech utilizing artificial neurons, in which they could recreate the distinct Fuzzsquatch tone matrix.  
We bring you this organic hybrid tech in the form of the Fuzzsquatch Fuzzdrive so you too can be one with the "tone."
Fuzzsquatch rocks.
I purchased the octanaught several months ago and loved it,thought I would give the Fuzz a try, for my style I like the squatch better, both are amazing recommend trying them
Best pedals in the galaxy!!!
These are some of the best pedals we have gotten to personally play through!!! Keep making great stuff
Greatest Fuzz Pedal
This pedal is better than Big Muff, it has sweeter tones and absolutely great sustain while keeping note clarity.
Fantastic Fuzz
I saw an advertisement on Instagram, it looked interesting so I researched it a little more and thought I would give it a try. Wow! What a great pedal, and the tone knob is not like anything I expected. Using my EVH guitar, through the pedal and into my Marshall 2205, is fantastic!
Fuzz Bomb
Has a great Fuzz tone and the artwork looks great on your pedal board, a top 3 fuzz pedal must have !